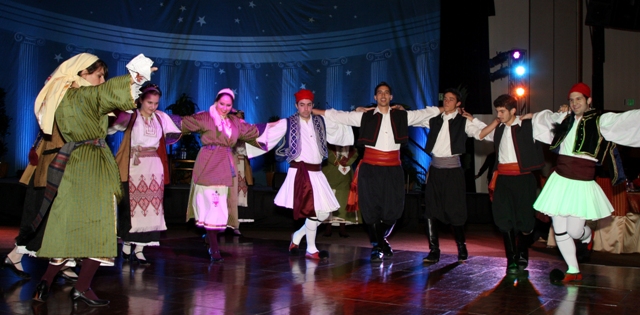 Olympian dancers at the event

For the first time ever, the Hellenic Society and Wilhelm Scholê International recently joined forces to host "It's All Greek to Me", showcasing the best and brightest of Houston's Greek community. The exclamatory "Opa" would be an understatement as event chair Carolyn Farb, creating event magic again, interviewed Academy Award Winner Olympia Dukakis in her trademark intimate, insightful and enlightened style; Olympian Dancers performed; Greek cuisine and wine flowed; and philanthropic rainmakers were honored with Wilhelm Schol

ê

International's Cosmopolis Award during this memorable evening.

Actress Olympia Dukakis and event chair Carolyn Farb

Taking a cue from Zeus ( the Greek god of Hospitality, of course ), the Hyatt Regency's Imperial Ballroom was the mythical backdrop for the "Inside the Actors Studio" type of intellectual exchange. During the interview, Olympia shared the themes that have shaped her life...being Greek and a Woman...and how those influences created the hilarious, ambitious, hardworking, and proud woman many only know through her screen sensations. Farb's questions were indeed based on the vast research she did on Ms. Dukakis and the Greek culture.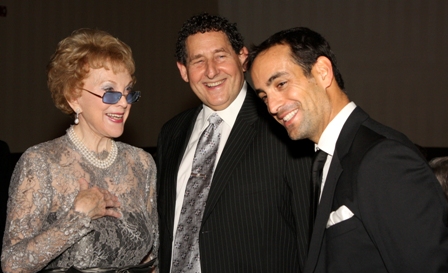 Dr. Marilyn Wilhelm with ARION publisher and editor Herb Golder and Stamatis Astra both in from Boston
Marko Dasigenis and Kathy Dasigenis

The interview was followed by celebration of more Grecian traditions....chef Jean Moysan served classic favorites like: spinach spanakopitas, dolmades, and baklava; and JANCO foods, who generously donated all of the wines, selected Kir Yianni Greek wines as a complement to the cuisine. Traditional international folk dancing to the sounds Alex Kalos' "Golden Greek" wowed everyone, as did the silent and big board auctions. Global philanthropists George and Angelina Kostas, President Emeritus of Boston University, Dr. John Silber, and Olympia Dukakis received Wilhelm Scholê International's Cosmopolis Award in recognition of their generous attention, support, and preservation of classic Greek Culture. The evening was a phenomenal start to what will surely become the next great Greek tradition: annual Hellenic and Wilhelm Scholê fundraising galas. Opa!

Marie LeNotre and Alain LeNotre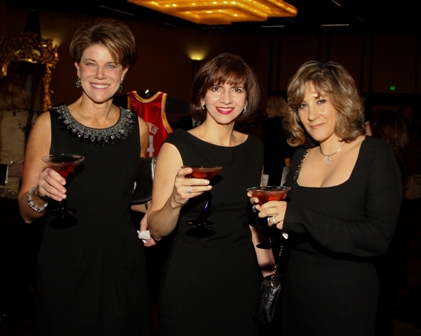 Elaine Makris Williams, Connie McMacken, and Jacqueline New Gartland

Seen in Grecian Chic: Anne and Albert Chao, Gina and Devinder Bhata, Thomas and Anna Au, Baroness Elizabeth Pettit, Allison Boone, Javier Moreno Valle in from NYC, Cynthia Kostas, Dr. Nicholas Checkles ( President of the Hellenic Cultural Center ), Dr. Marilyn Wilhelm ( Founder, Chairman, and President of Wilhelm Scholê International ), Greek Consul Alexandra Theodoropoulou and Kostas Kouzas, Judge Eric Andell ( big board auctioneer ), The Duke and Duchess de Gramont, John M. Tsacrios, Jr., John Danielson in from NYC, Alex and Lindsay Mousoudakis, and Charles & Lily Foster.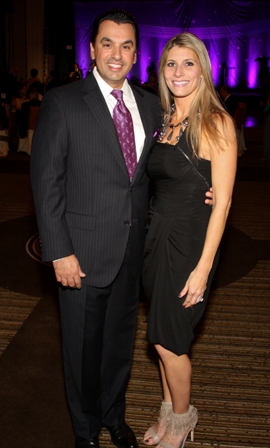 Dr. Devinder and Gina Bhatia
Yassi Satchell modeling the auction's Fendi bag

Photos Courtesy of Kim Coffman